State of the Region Address
The Greater Parkland Regional Chamber of Commerce welcomes Mayor Allan Gamble of Parkland County, Mayor Jeff Acker of the City of Spruce Grove, Mayor William Choy of the Town of Stony Plain, Chief Billy Morin  of Enoch Cree Nation, and Dr. Tracy Friedel, President of Metis Nation #4 as our guest presenters for the 3rd Annual State of the Region Address, Thursday, March 31st in the Spruce Grove Hall at Heritage Park in Stony Plain.
Our region continues to welcome new business to our many industrial and commercial parks which continue to grow despite economic challenges. The Chamber is pleased to host this event and offer our guests a phenomenal dinner. Our municipal and Indigenous leaders are the highlight of the evening as they share with our guests the future focused developments and plans for the region.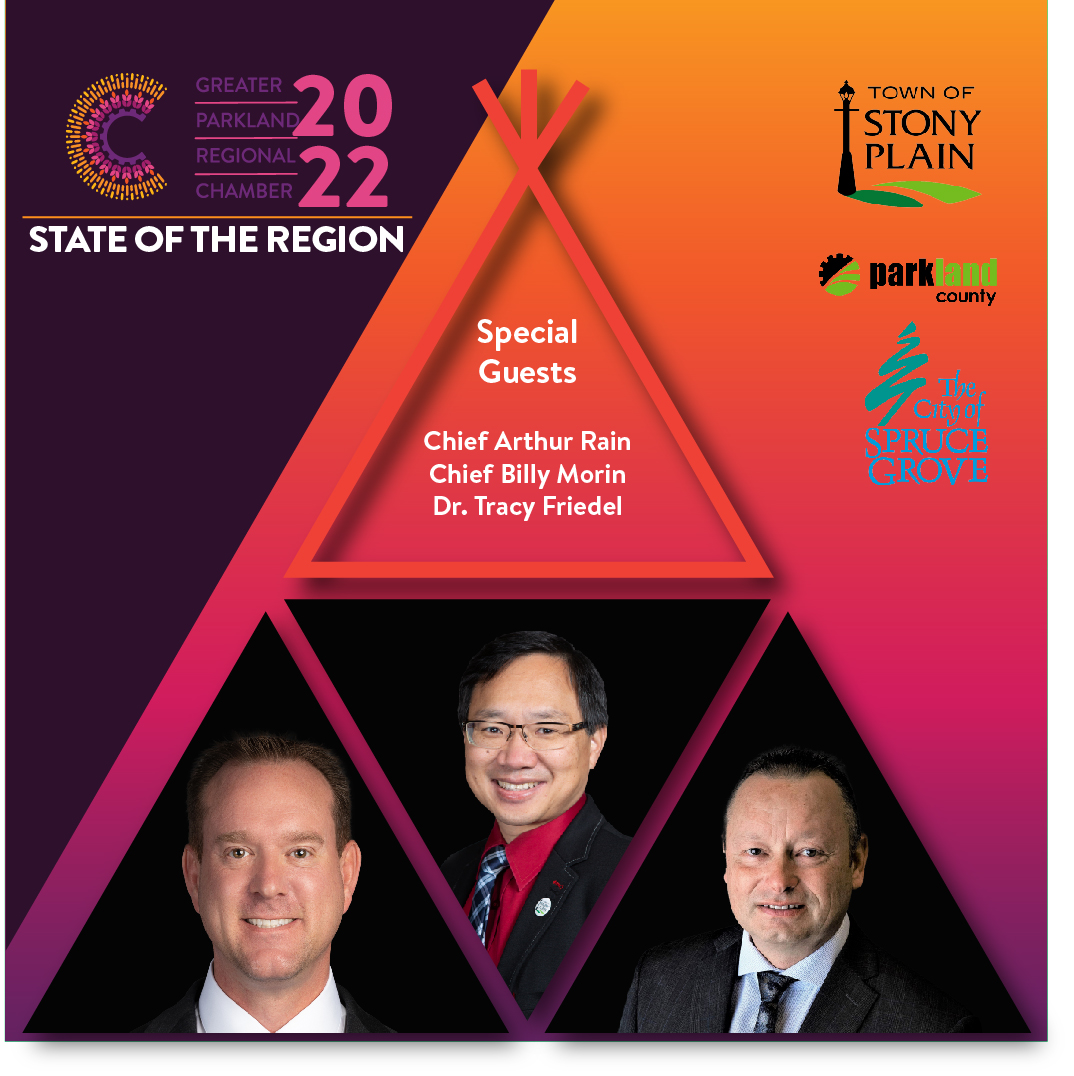 Date and Time
Thursday Mar 31, 2022
5:30 PM - 9:30 PM MDT
5:30 PM Networking Reception
5:50 PM Call for seating
6:00 PM Welcome & Introductions
6:05 PM Opening Prayer & Buffet Dinner
7:15 PM Program Commences
7:20 PM Regional Presentations
8:25 PM Question & Answer Session
9:30 PM Closing Remarks
Location
Spruce Grove Hall at Heritage Park
5100 - 41 Avenue
Stony Plain, AB  T7Z 0B4
Fees/Admission
Members: $75 per person
Non-Members: $85 per person
Contact Information
Greater Parkland Regional Chamber 780.963.4545
Send Email
Thank you to our 2022 State of the Region Address Sponsors