Time to make a BIG impression with our Digital Signage marketing opportunity. The Chamber has two signs, one in Stony Plain along Highway 779 in Rotary Park, and a second in Wabamun near the Giant Dragonfly. With many advertising choices, from the internet to newsprint, from media to the rapidly developing special media platforms, we understand that you have to use your marketing budget wisely. Our digital sign allows you a much more cost-effective way to broadcast your message to the community and more.
Our digital sign options allow you to maximize your dollars; reaching the greatest number of consumers in a timely, effective manner. We can help you build connections on an everyday basis.
Some of the benefits include:
Captive audience
Building brand awareness
Promote specials & sales
New product launches
Target new customers
Promoting community events
Lower cost of production of marketing material
Sign Location: Rotary Park (4815 - 44 Avenue)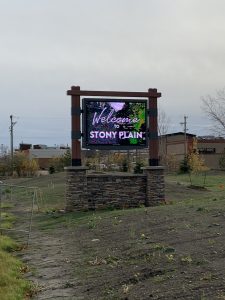 Height: 6'-8 7/8"
Width: 9'-4 3/16"
The rates for the digital sign have been reduced by 50% for 2022 through our Resilience and Recovery initiative. This is an effort by the GPRC to help businesses get the word out that they are open, or how they are serving their customers at this time.
$75 +GST per week/sign (minimum 2-week commitment)
$50 +GST per week/sign (minimum 4-week commitment)
$43.75 +GST per week/sign (3 to 6-month contract)
$37.50 +GST per week/sign (1-year contract)
Sign Location: 50 Street and 56 Avenue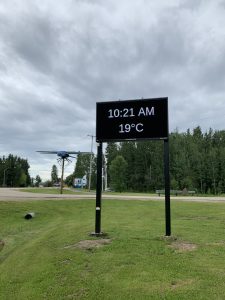 Summer Rates (Friday of May long weekend to Monday of September long weekend):
$25 +GST per week
$75 +GST per month
Winter Rates (Tuesday after September long weekend to Thursday before May long weekend):
$15 +GST per week
$45 +GST per month
For 2023, we have revamped our email marketing strategy, and are no longer offering paid e-Blasts for members, but rather the GPRC is sending out weekly themed emails and in there we are offering ad space.
These ads are a member-only benefit, for those with addresses inside our region (a few exceptions may apply).
If you are interested in submitting an ad in an e-Blast, please email Norman at: nleach@gprchamber.ca for date availability.
Emails are sent out to approximately 1,700 inboxes around the region.
Price:  $125.00 + GST
Ad specs: 480x96 px
Image requirements: RGB, jpg format
Images can be hyperlinked to a website