Diversity, Equity & Inclusion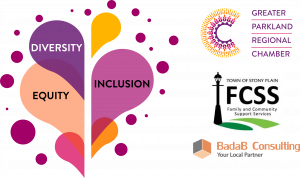 The Greater Parkland Chamber of Commerce strives to provide timely and essential educational information to our members. In 2021, one of our initiatives is to support workplace Diversity, Equity, and Inclusion (DE&I) needs. This year, we planned a series of six webinars presented by subject matter experts, and a number of business-focused events hosted by the Chamber and other partners. With the stress of COVID-19 the GPRC recognized that business owners simply do not have the capacity to take on educational series right now.
With that in mind, we have created a video series and will release videos twice a month about Diversity, Equity, & Inclusion in the workplace. These short videos will cover the topics which would have been touched on in the educational webinars.
Addressing Different People and Using Proper Pronouns
Getting Leaders Buy in for Building an Inclusive Workplace
Words Matter in Your Job Posting
Crucial First Steps in Creating Your Workplace DE&I Training
Accessibility in the Workplace - Where to Start
Workplace Accessibility Legislations and Universal Design Approaches
Demonstrating Leadership Commitment towards DE&I
Are Your Workplace Benefits Flexible Enough?
Making Changes for Better Staffing
Creating a Successful DE&I Training & Learning Package
Uncovering DE&I Challenges In Performance Excellence
The Diversity, Equity, & Inclusion Series have been postponed until further notice.