International Women's Day is celebrated on the 8th of March every year around the world. It is a focal point in the movement for women's rights.  The GPRC is excited to host our second annual International Women's Day event.  The Women of Influence Campaign is a promotional campaign by the GPRC to celebrate the Region's women who are the best in their fields.
The 2023 event will be hosted by Tammy Colbow of Royal LePage Noralta on Wednesday, March 8 at the Links in Spruce Grove. This year, 4 Women of Influence will be recognized.
The Greater Parkland Regional Chamber of Commerce recognizes that diversity is good for business, that organizations greatly benefit from having a diverse leadership team throughout the organizational structure, and that women in business play a critical role in breaking ground in the land of opportunities.
We are looking for a title sponsor for this event.  If you or your business is interested in more information on sponsorship for Women of Influence events throughout the year, please contact our office at (780) 963-4545.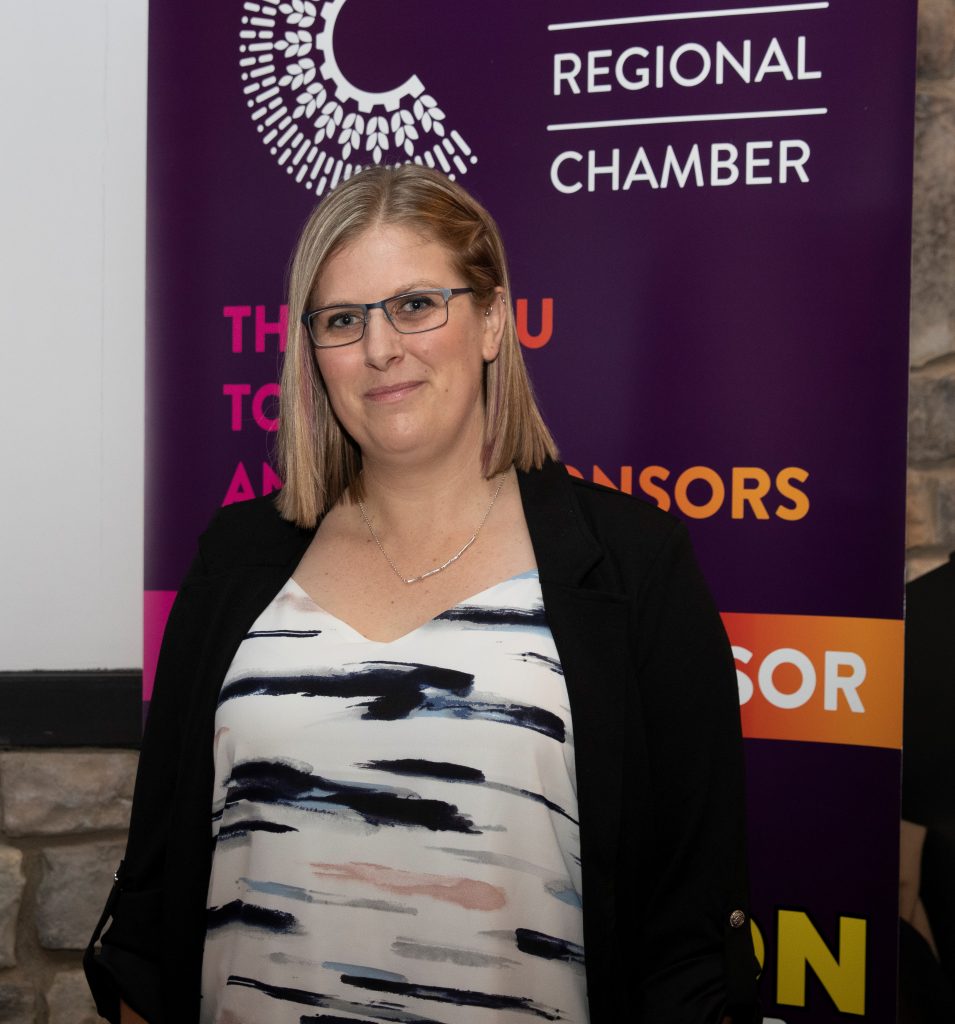 Ashleigh Munro, Kiwi Nurseries
Ashleigh Munro grew up in the Kiwi Nurseries business but it wasn't until twelve years ago that she took on a major role in her family's operations. Her passion for the local community and her family's business is represented through her numerous nominations this year. Earlier this year, Kiwi Nurseries won the Marketing Award of Distinction from the GPRC Business Awards of Distinction. Since then, Ashleigh has been nominated, and is a finalist, for the Marketer of the Year Award with the Alberta Chambers of Commerce. She has also been nominated for the Green Profit/Garden Centre Group Young Retailer Award which is an award that covers all of North America and currently, Ashleigh is one of three Canadian finalists nominated for this award. This nomination is highly coveted in the garden centre community throughout Canada and the United States. Ashleigh's nominations speak to her commitment to Kiwi Nurseries' growth and development. Earlier this year, Green Profit wrote a feature article on Ashleigh praising her management style which is based on building both team and individual skills... continue reading the article here.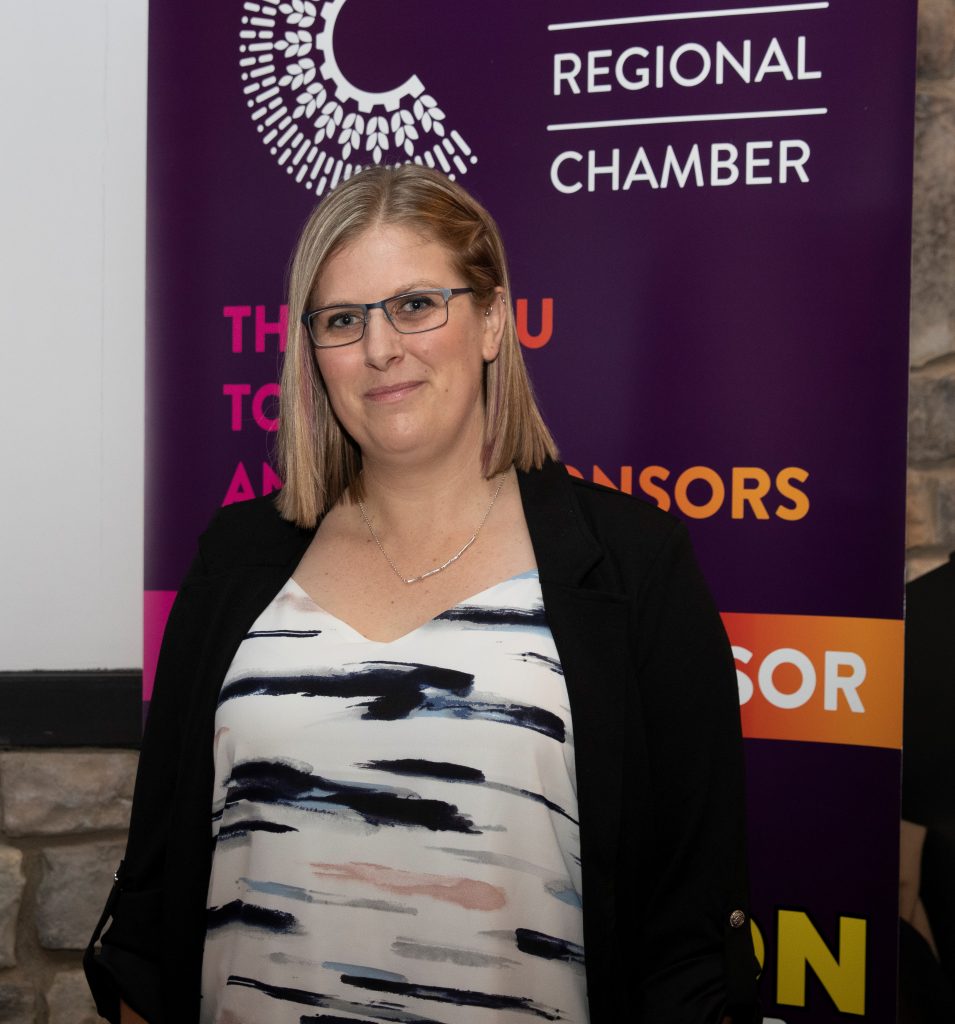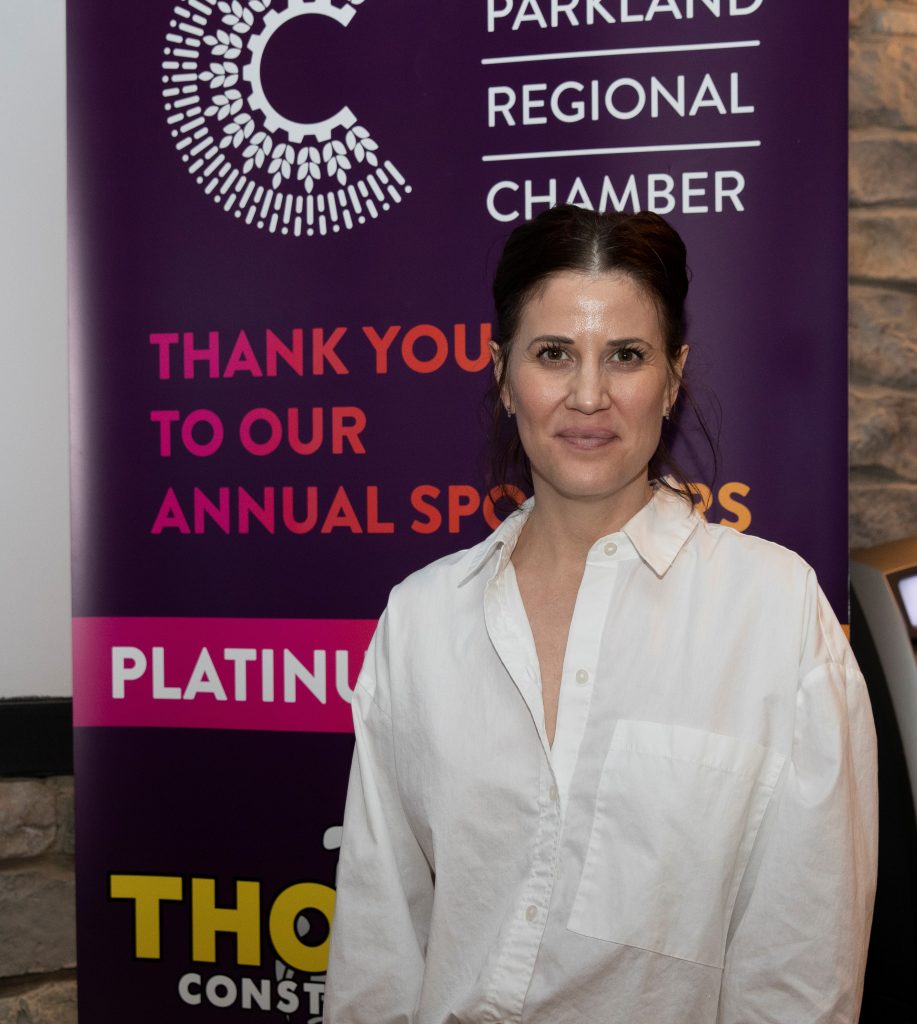 Amanda Conklin Ward, whipLASH Aesthetics
Amanda Conklin-Ward is the owner, CEO, and Master Esthetician at WhipLASH Aesthetics in Stony Plain. Amanda started WhipLASH in 2016 and she has faced more than the typical ups and downs of a small business. The biggest obstacle, COVID-19. Amanda felt threatened by the virus and wondered if she had made the wrong choice in switching careers because her business was deemed "non-essential." But to Amanda, her clientele comes first. Male or female, young or old, Amanda will take on any new client in hopes of meeting their skincare and aesthetics needs. She was driven to persevere throughout the pandemic by her love for the family of clientele she has created in her studio.
As the Master Esthetician, Amanda does just about everything at WhipLASH. Not only did she start the company a few years ago, but she also takes on clients every day. WhipLASH began as a studio that offered eyelash extensions. Over the past few years, as Amanda and her team furthered their skill, knowledge, and expertise in the industry, the studio offered more services... continue reading the article here.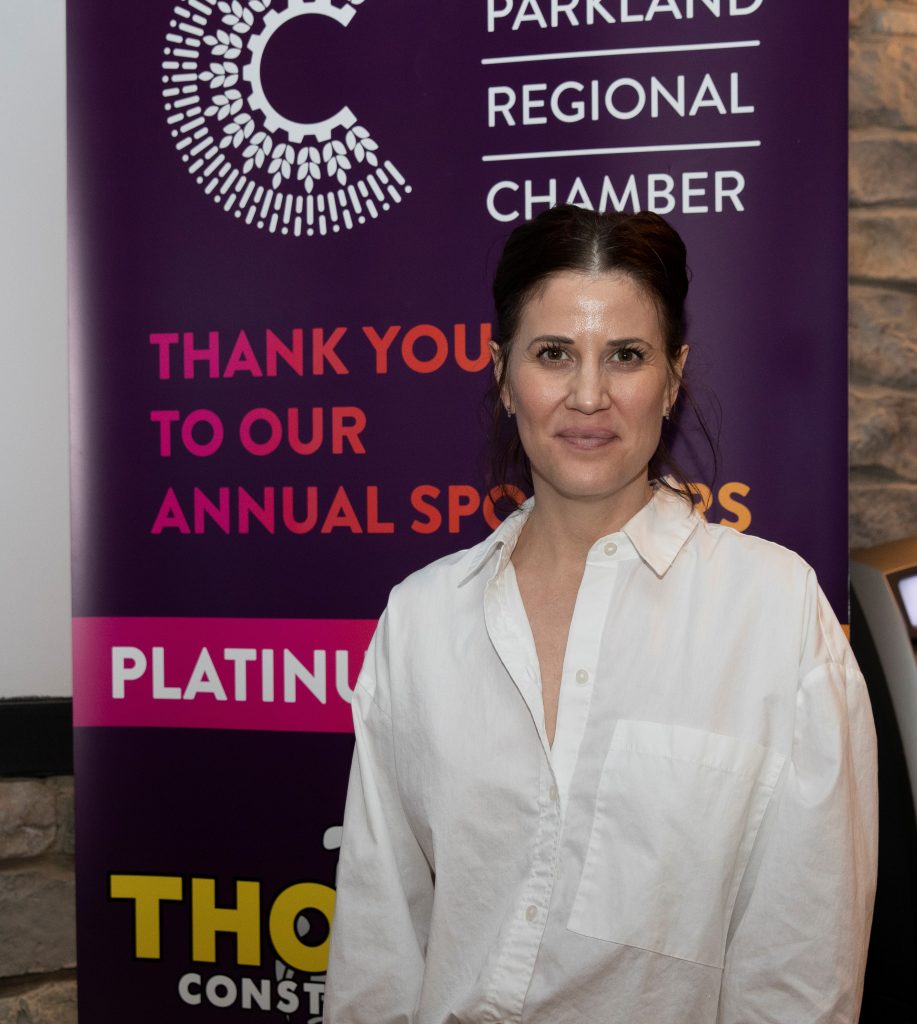 Amanda Wilhauk, Wilhauk Beef Jerky
Amanda Wilhauk has lived in this community for her entire life…and she continues to be passionate about every aspect of it.
Her and her husband, Trevor Wilhauk, have raised their four children in Spruce Grove and they attend the same schools that Amanda did as a young child.  Their children, Grayson, Olive, Hazen, and Scarlett have grown up surrounded by a family of entrepreneurs and they all understand the ins and outs of being self employed.
Bringing people together and providing other businesses to promote themselves within hers. This philosophy continued as the community watched her and Trevor open up an extension of their family business, Wilhauk Beef Jerky Ltd. Their storefront is full of other Alberta made products…giving a brick-and-motor storefront option to so many other small business that have not made the jump themselves.  You can find chocolates, peanuts, pies, pirogies, bbq sauces and everything else on their shelves…just because she wants to help other businesses make it.
Amanda currently sits on the City Centre Business Association board and is looking forward to the revitalization of the downtown area of Spruce Grove.
Giving is a part of Amanda.  A part of her actual soul.
We have all watched her Wilhauk Beef Jerky 12 Days of Giving campaigns over the years...and it stresses everyone around her right out (her parents, her staff, and her husband) with how much she gives away.
But you know what?
It's about supporting the community that supports her.  And it has had the most beautiful snowball affect on everyone around her.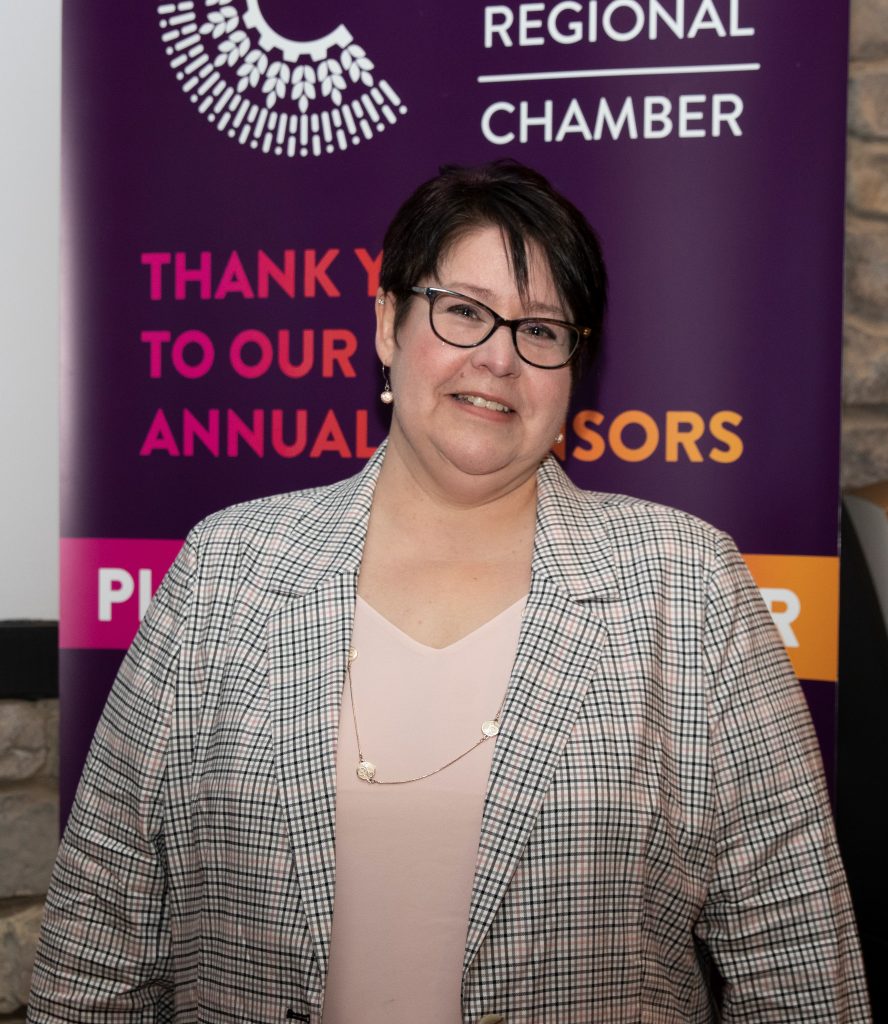 Chantal McKenzie, That Yoga Place & Phoenix Physical Therapy
Chantal McKenzie is the proud co-owner of 3 local businesses: The Beer Shak, That Yoga Place Inc., and Phoenix Physical Therapy. All three are located in Spruce Grove. She is a hardworking business owner with a passion for community involvement and volunteerism. When it comes to Chantal there is not enough that can be said about community. To her, community is nothing without involvement and society is nothing without community. Interpersonal relationships cannot be fostered without connection and interaction such as in a community. Business is no different, relationships and communication with customers and colleagues are necessary for success.
Chantal made the decision to quit her job as a civil engineer and pursue an entrepreneurial venture. She chose to follow her heart to what she was truly passionate about: Local business in her community. She and her husband have owned the Beer Shak for the past 15 years and their two more recent businesses for the past five after she retired from being an engineer after 23 years... continue reading the article here.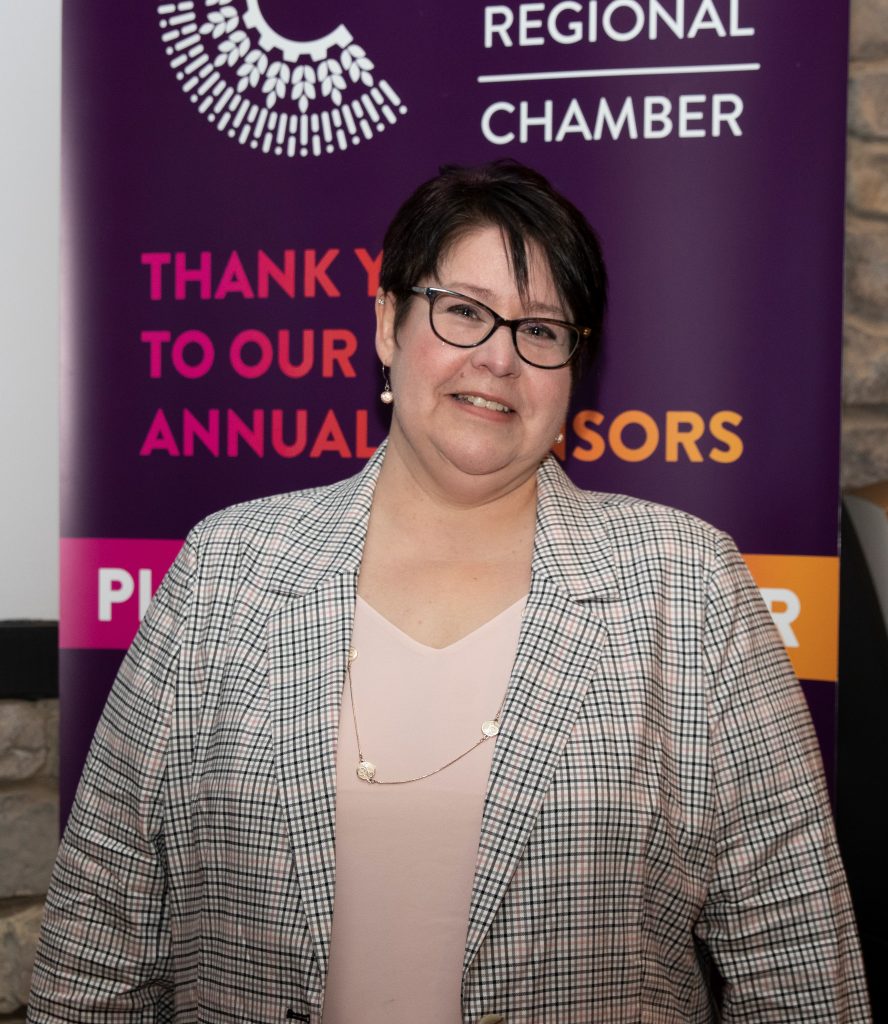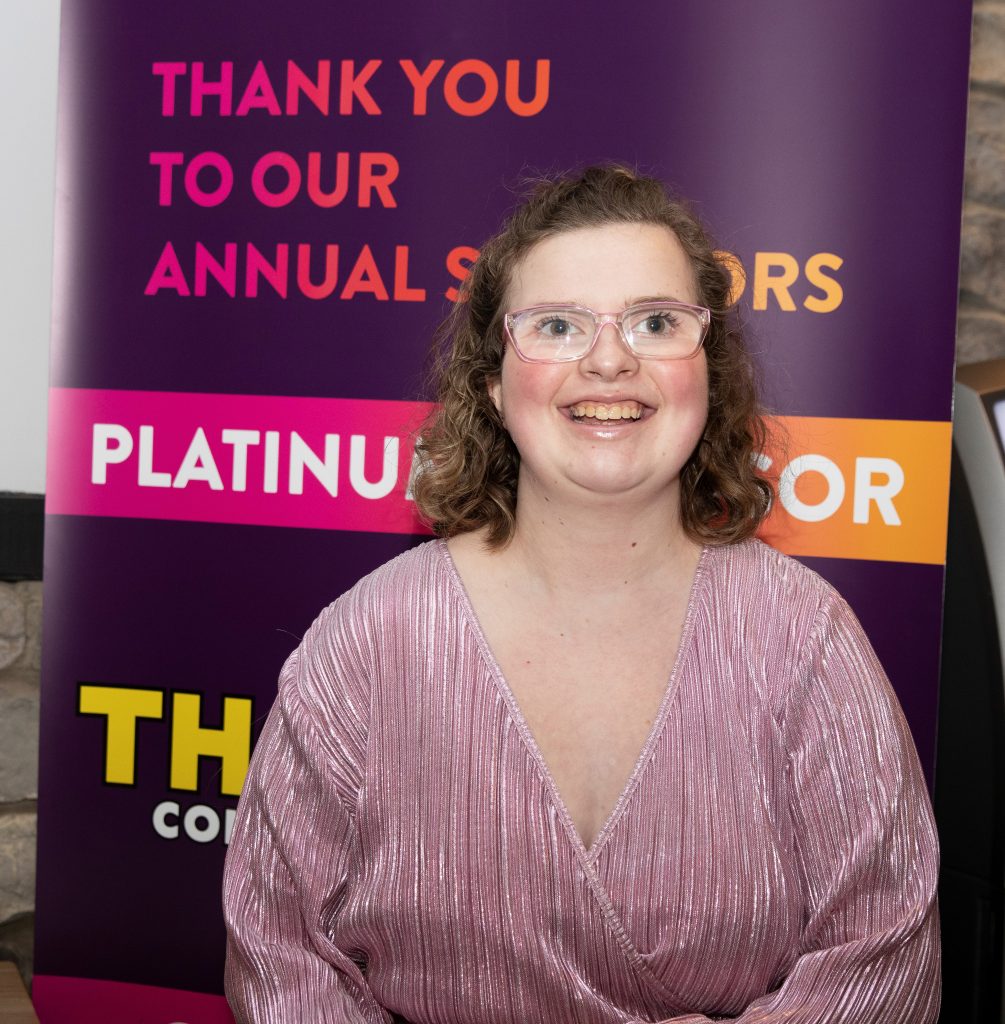 Emily Ainsworth, CEO of Wags Cookies
To know Miss Emily Ainsworth, CEO of Wags Cookies Limited, is to be inspired by her ability to unify hearts and minds through her business in the spirit of inclusion and diversity, knowing first hand that disabilities are not a hindrance but rather powerful assets if given the right opportunities to succeed at home, at work and at play.
For 20 years she has braved a rare genetic disorder that has resulted in numerous brain and stomach surgeries, countless procedures, frequent hospitalizations, and uncertainty about her future. She continues to suffer with unpredictable, recurring episodes of dysautonomia and chronic pain to this day, but never gives up. Her resilience is her other super power.
In 2021 she took Inspiration from her late service dog named Levi, her love of baking, and the need to grow meaningful job opportunities for individuals excluded from the traditional job market due to their disabilities *right here in our own community, to create Wags Cookies, where she mixes in all of her experiences to deliver more than bags of delicious dog treats, but a recipe for awareness, compassion and inclusion for " Every-Body!"
We are honored to have her as a Women of Influence for 2022.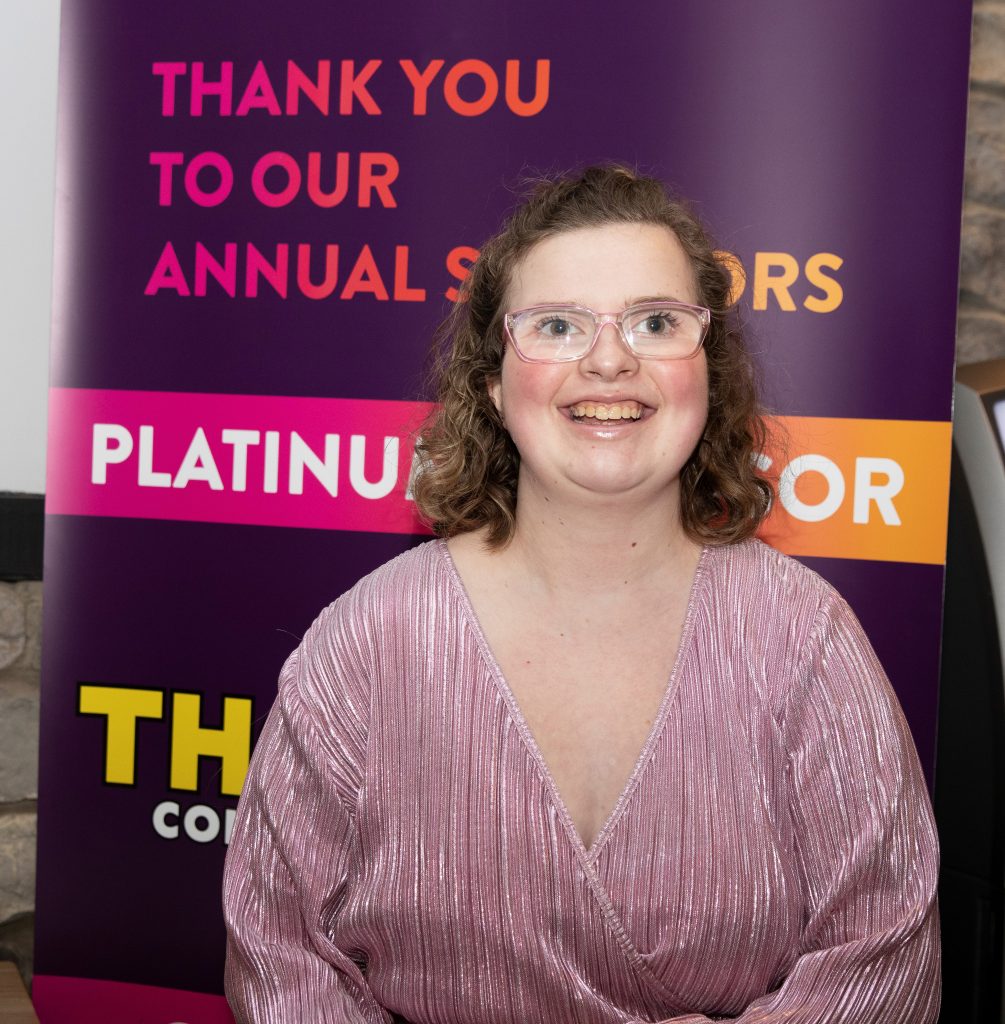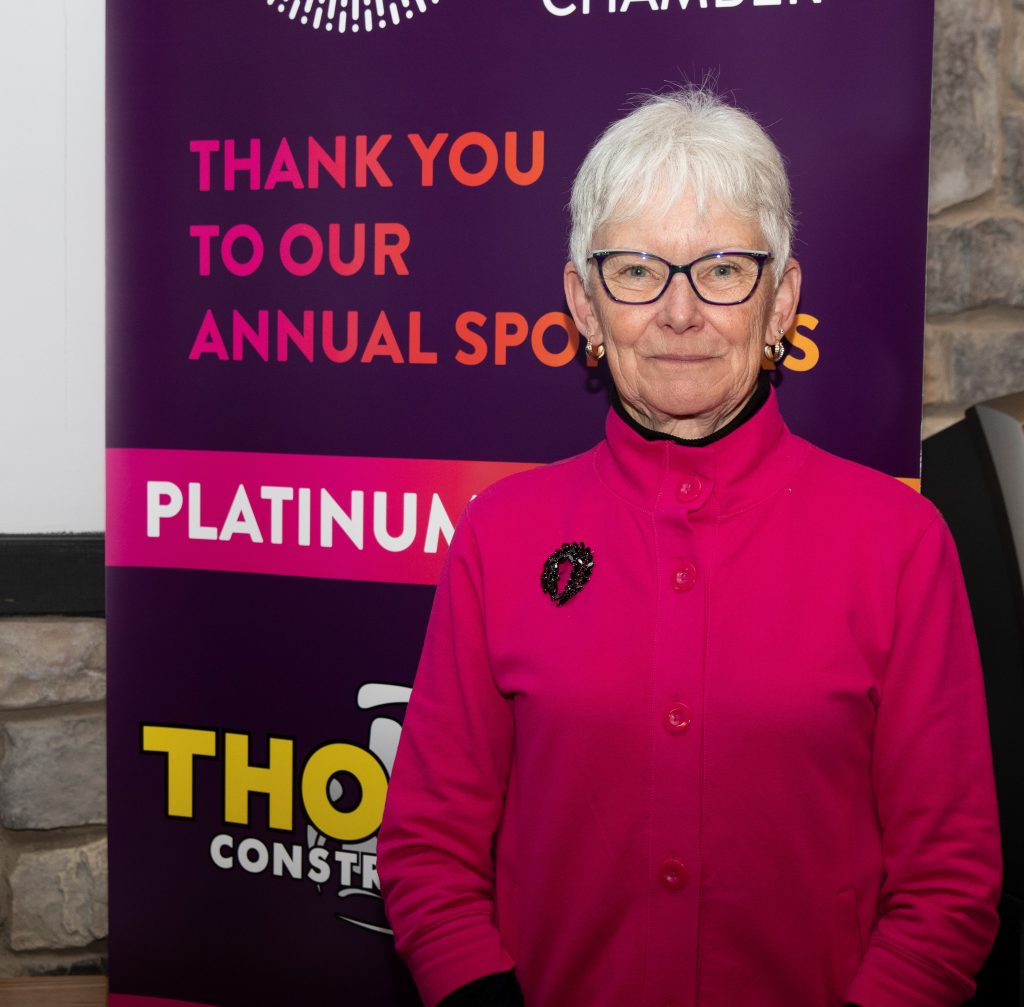 Lorraine Stewart, Chair for Parkland School Division
Lorraine Stewart is a Woman of Influence involved with numerous aspects of community. A Rotarian, school board Trustee, retired educator, board member for the Alberta College of Psychologists, and the list goes on. Lorraine is committed and passionate about improving her community in any way possible. Dedicated does not even begin to describe the care and attention Lorraine places on each of her roles, elected or volunteer. She gives each project, person, and task the attention it deserves and never does anything just halfway. Lorraine is an active volunteer to help those in her community, the province, the nation, and even across the globe.
Lorraine's mission in education, and her life, is to promote inclusivity. For some, inclusivity means doing the bare minimum to tolerate others with different perspectives, experiences, and abilities while Lorraine regards inclusion as valuing one another for those same reasons.... continue reading the article here.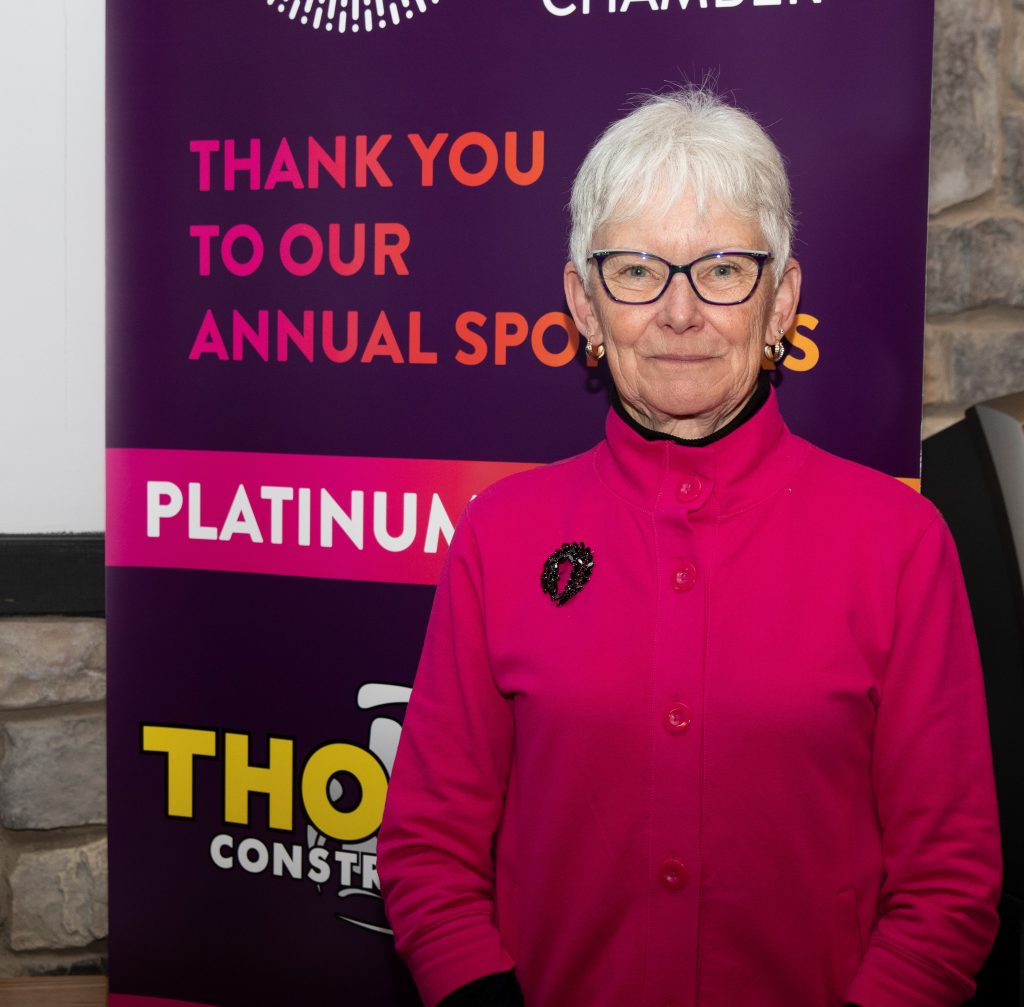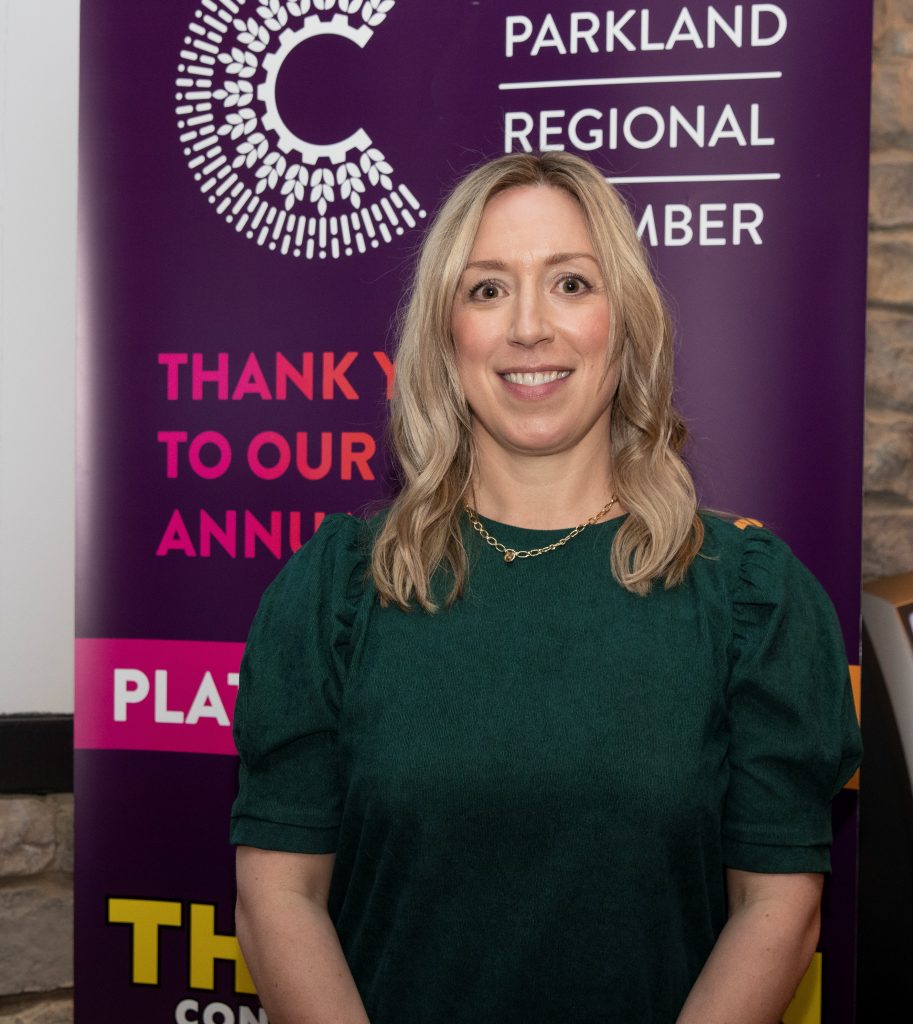 Rachelle Dubeau, Dani + Madi
Rachelle Dubeau is the owner of Dani + Madi in Spruce Grove. She started up her small business in 2020 amid the COVID-19 pandemic. Also working as an accountant, Rachelle is always busy. Beginning a business in 2020 made everything difficult, but luckily Rachelle never faced shut-downs in her industry. Being open allowed Rachelle to continue to foster personal relationships with her customers and community.
"Honesty and Integrity" are the two words that Rachelle operates her business by and uses in her family-life. Honesty is always the best policy and Rachelle is a firm believer that being dishonest with a customer is the worst way to run a businesss... continue reading the article here.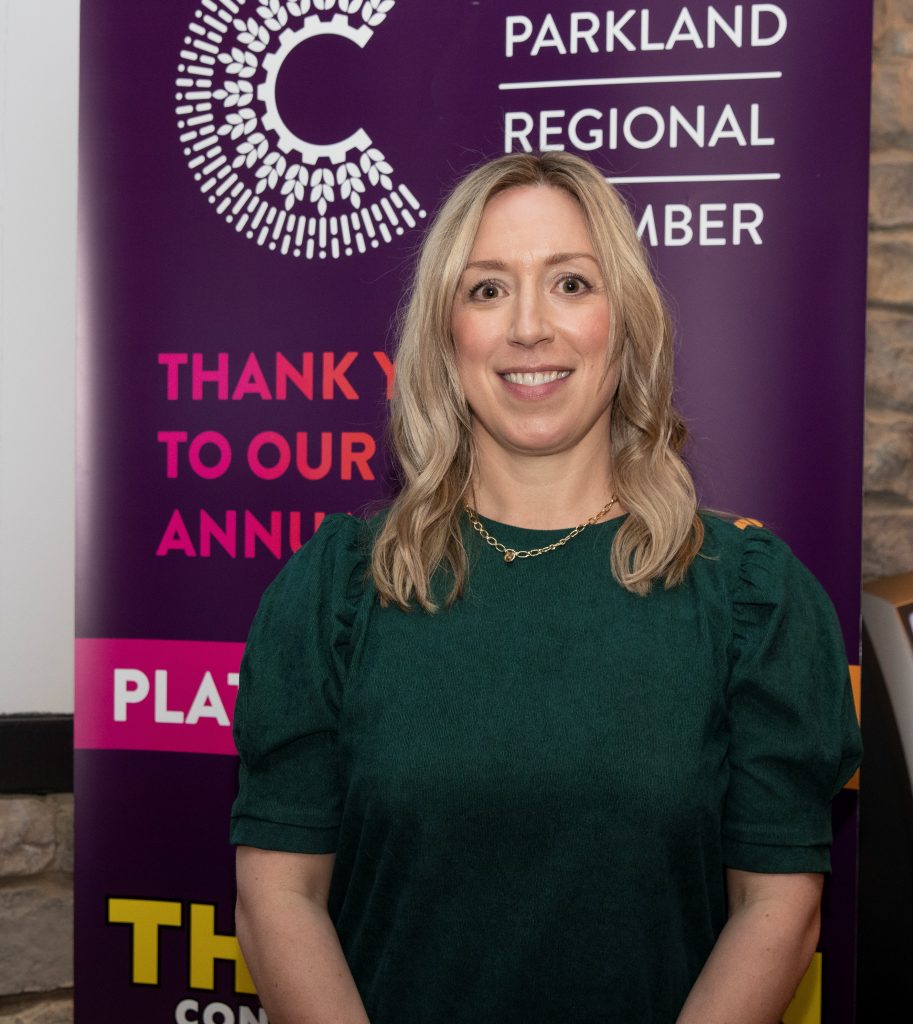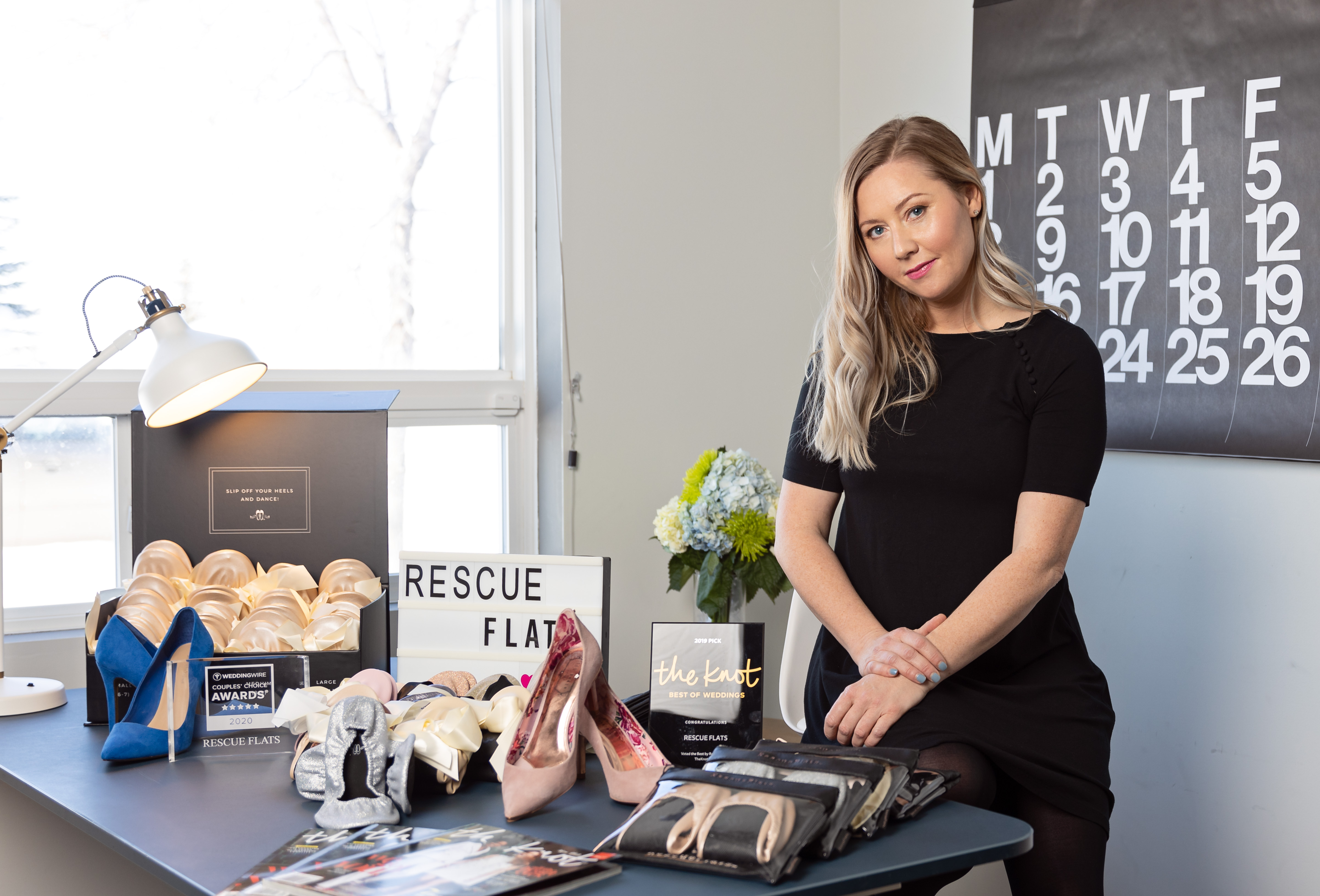 Sarah Befus, Rescue Flats
Sarah started Rescue Flats in 2013 when she was on maternity leave with her 1-year-old son and 3-month-old daughter. She was inspired to start a company that celebrated women. Since that time, Rescue Flats has grown into one of the hottest brands in the wedding industry and has been seen in weddings and special events all over the world, including The Knot Gala at New York Bridal Fashion Week.
Rescue Flats is on a mission to make the world a better place for women, and we are just getting started.
Since 2013 over 600,000 women have worn Rescue Flats when their high heels started to hurt their feet. Rescue Flat's part in changing the world may be small, but they believe that it's the little actions that build into big change. When one woman helps another, then she is inspired to help another, and another and so it goes.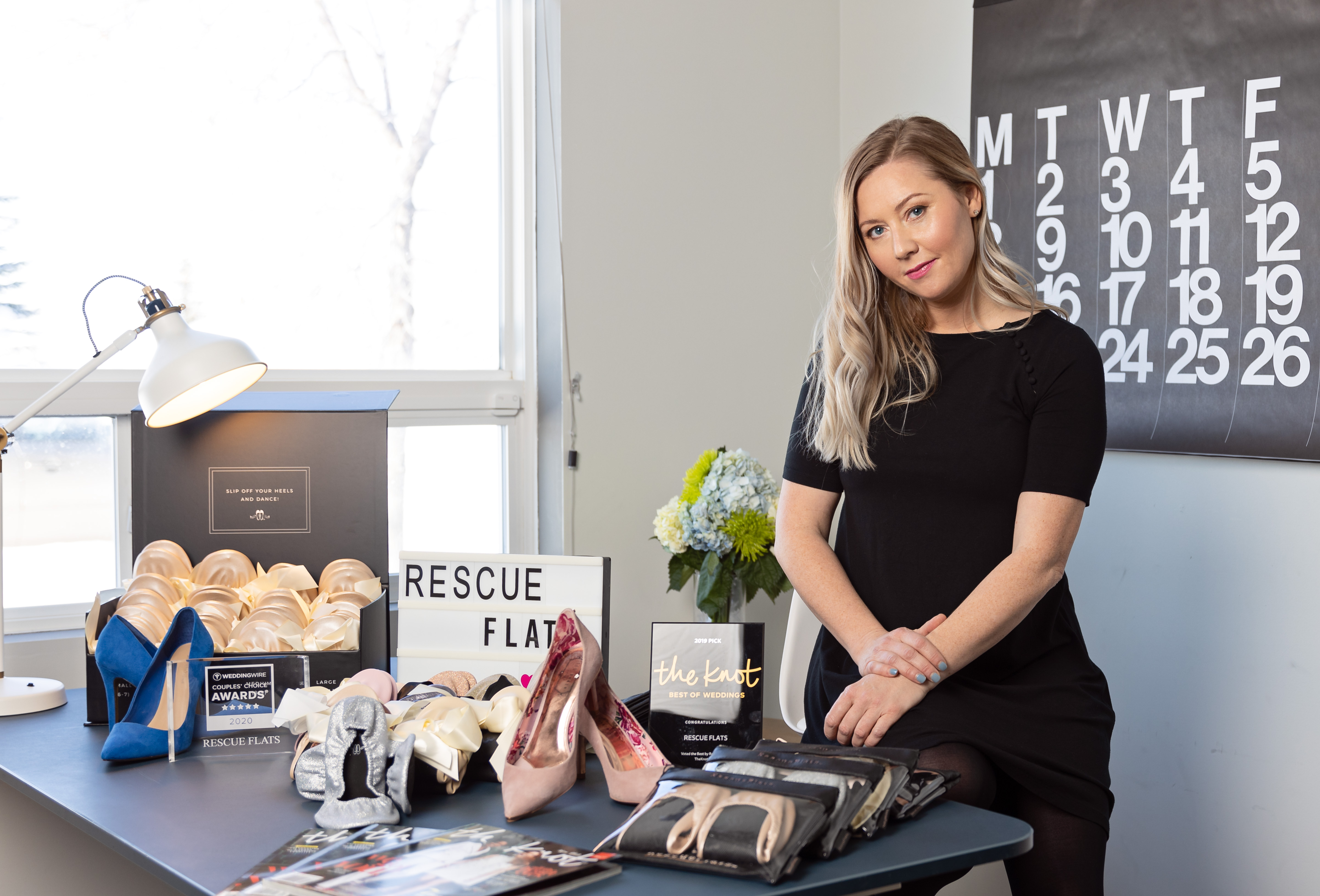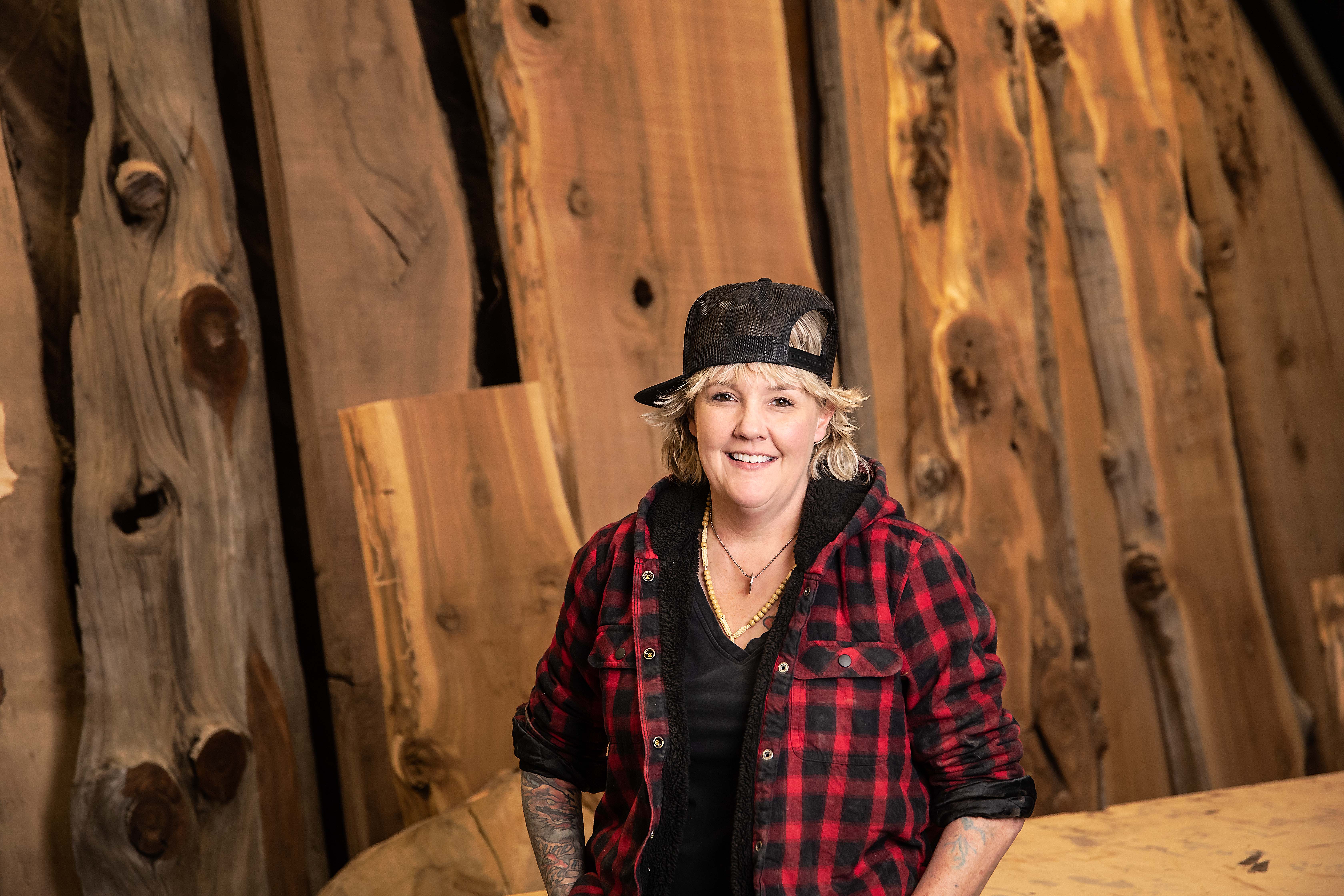 Holly Carmichael, TruWood Artisans
Holly Carmichael ventured into the millwork and furniture industry over 22 years ago. Holly quickly realized she loved the never-ending learning curve that woodworking is and shelved her plans to become a social worker in favour of working in the furniture industry (although she would continue to volunteer with high risk youth for many years to come).
In 2004, she recognized a growing demand for artisan-quality custom furniture in Edmonton and rose to the challenges and opportunities of this expanding niche market by establishing her own company. One of her goals was to provide high quality pieces and customer service – building pieces that she and her customers could be proud of. Since 2004, the team has built hundreds of custom pieces of residential furniture for local furniture stores, architectural firms, design groups and its own clientele.
Discerning clients sought unique furniture designs that differed from traditional, plain-lined items. They wanted much larger pieces and fully built-in units featuring a darker, more modern colour palette. In response, Holly spent countless hours making jigs and patterns and experimenting with joinery techniques and wood finishing methods – proving and honing her skills while forging valuable industry contacts and friendships that continue to hold strong.
Holly Carmichael's fine craftsmanship is vividly displayed in all of her work, and especially in her pinnacle vision of TruWood Artisans custom furniture.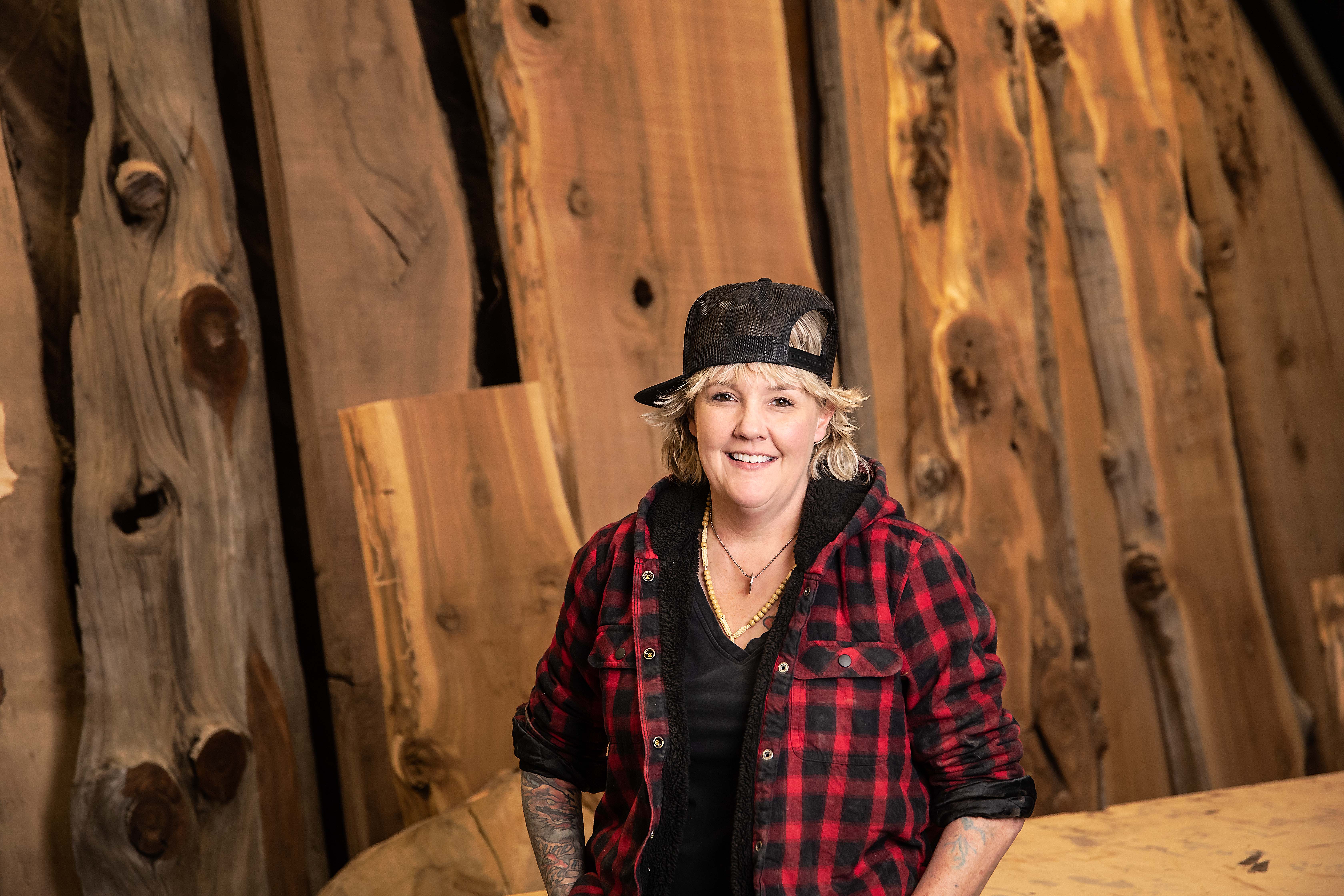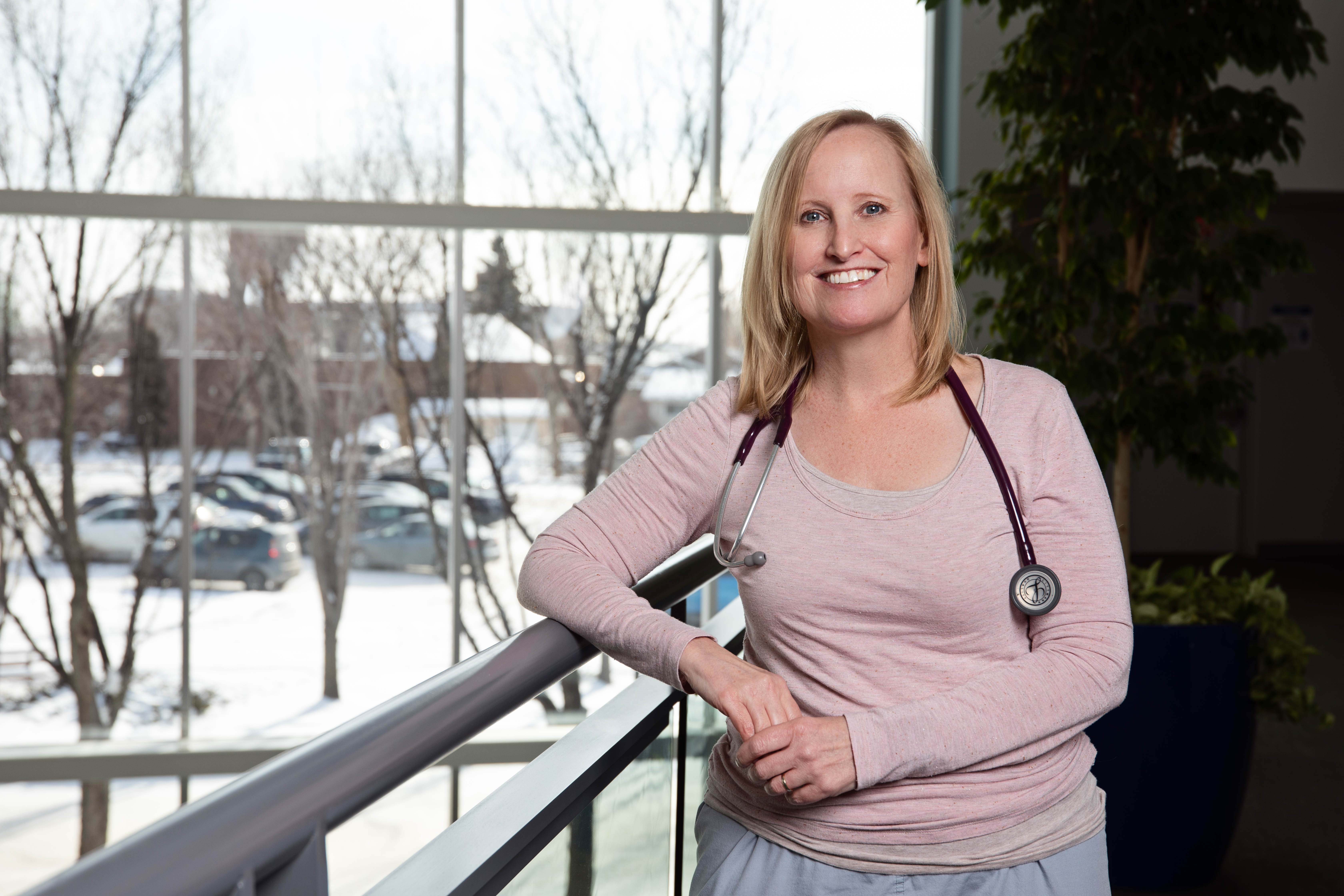 Dr. Melanie Currie, Westgrove Clinic
Dr. Currie has been a family physician for over 20 years who enjoys a variety of opportunities in family medicine.  She currently has a busy office practice in Spruce Grove doing cradle to grave care. She loves obstetrics and delivers babies at the Misericordia Hospital in Edmonton.  She has an active involvement in promoting Women's Health in her community and in the past has led the Women's Health programs in our Westview PCN.  She participates in the Hospital Care Team at Westview Health Centre (WHC) in Stony Plain and manages palliative patients in the Westview Hospice as well has at home.  She was the Medical Site Lead for Family Medicine at Westview Health Centre from 2005 to 2020 as well as being the Spruce Grove/Stony Plain representative for the Edmonton Zone Medical Staff Association.  She is the Suburban Delegate for the Edmonton Zone for Alberta Medical Association Representative Forum 2012 to present.  She was appointed to the Physician Compensation Advisory Committee for Alberta Health from June 2020 to present.
Her two children, Isaac and Julia, moved into Edmonton and thus Dr. Currie and her husband are now empty nesters.  Luckily, they keep busy on their acreage with their horses, dogs, cats and koi!  Dr. Currie's life kind of sucks with how busy she get but my husband has always been an amazing support and was the best stay at home dad for them!  She also has wonderfully supportive work colleagues who cover for her with all the extra things she has taken on over the years.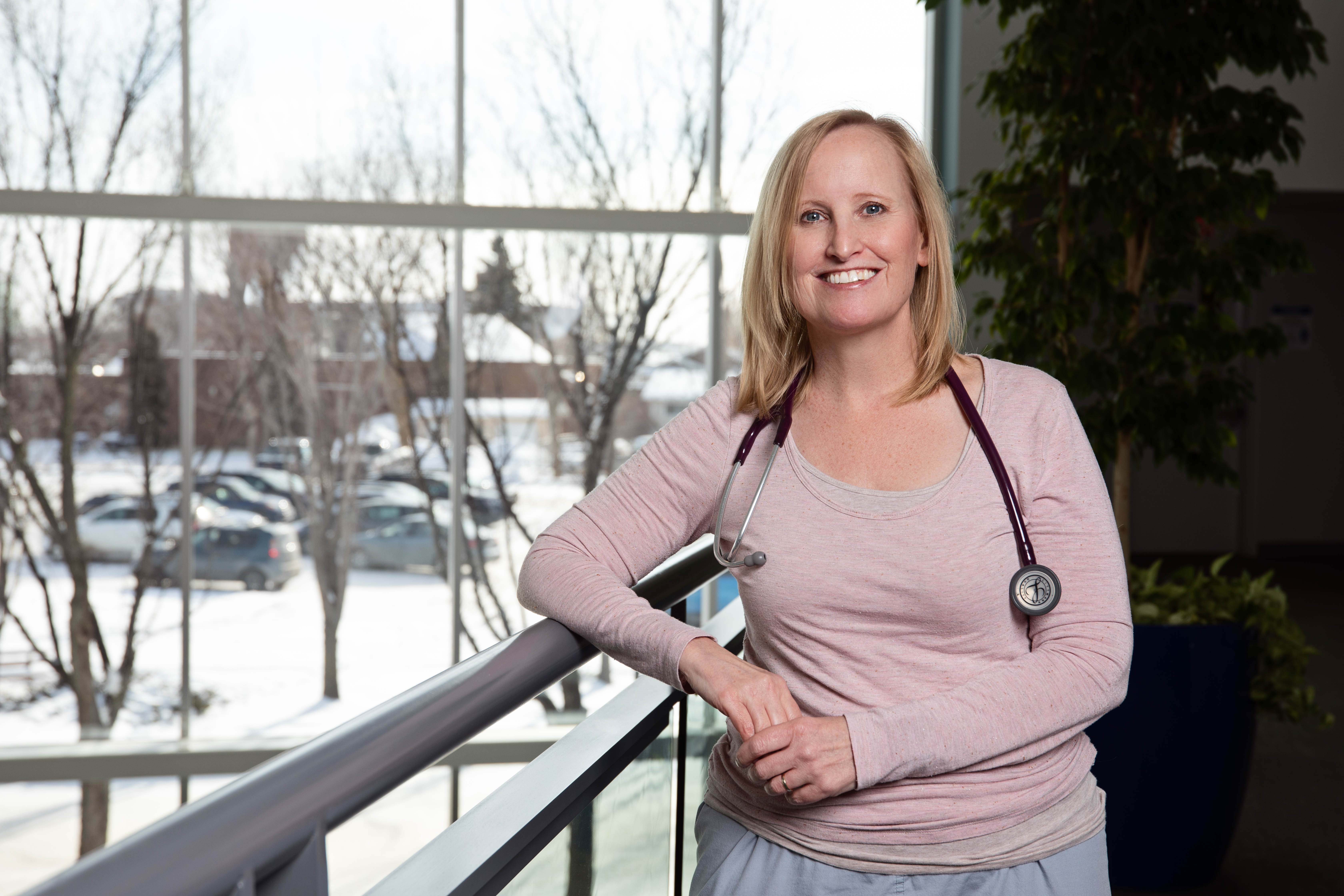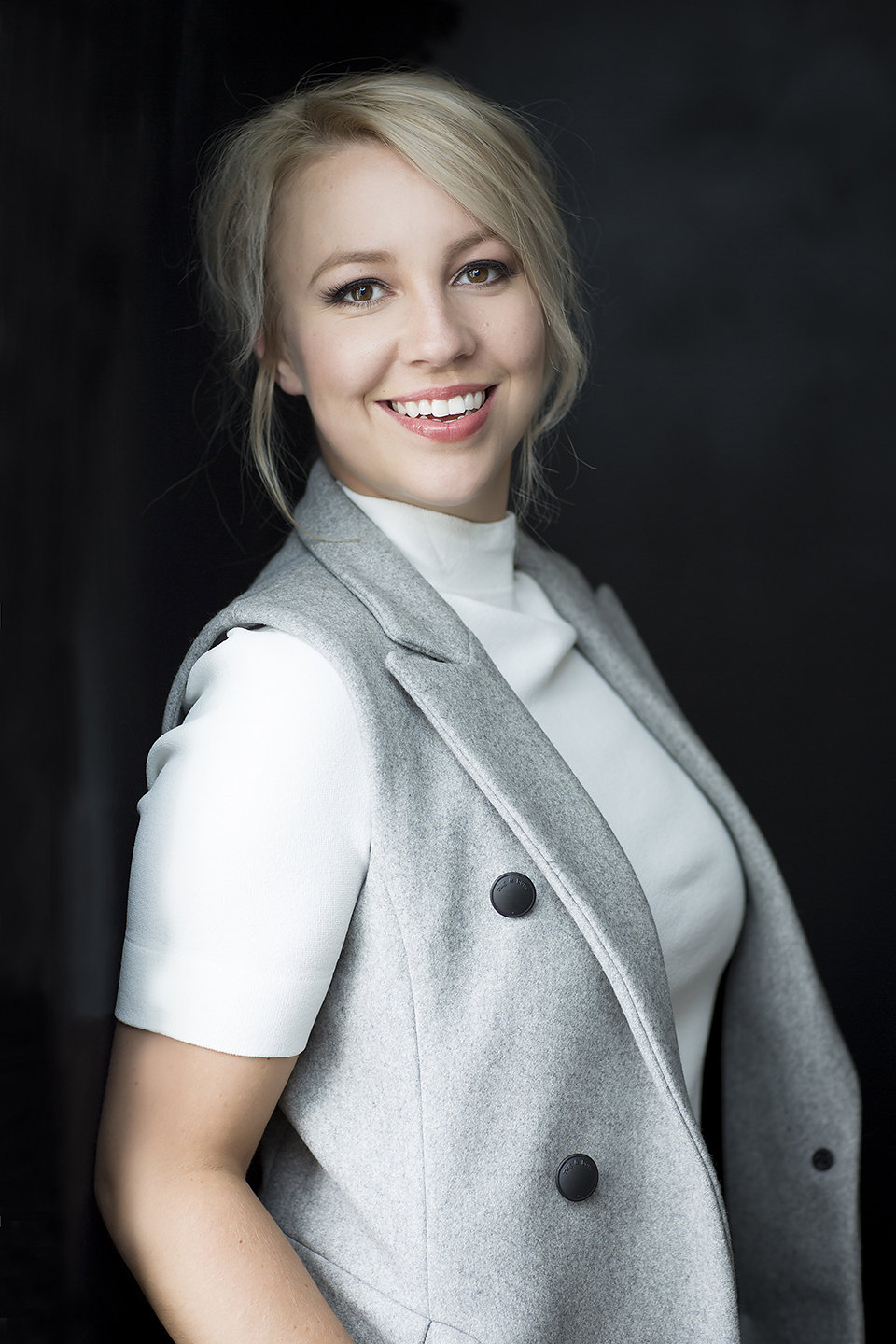 Kiely Maclean, RJ Maclean Tank Services
Kiely Maclean is the President and Co-Founder of RJ Maclean Tank Services, a leader in global tank cleaning with a focus on innovation, robotics and environmental disruption in the energy industry.
Kiely has been recognized as the New Generation Award Winner for Veuve Clicquot Women in Business Awards as well as the Winner of the Young Women in Energy Awards. Recognized as both Top 35 Under 35 and Class of Rising Stars 2019. Kiely was also a finalist for the EY Entrepreneur of the Year Awards, and the RBC Women of Influence Staples Star-Up Award. Featured as a speaker for SHEInnovates, a Telus Event sponsored by UN Women promoting female innovators as well as a panel on Environmental Disruptors sponsored by BDC, Scotiabank and Women of Influence. Kiely was also a panelist for Toronto's Bay Street Bull 'Women in Leadership' Conference.
RJ Maclean has been recognized as Top 25 Innovators of the Year, with a focus on challenging the status quo through safety, efficiency and environmental energy processes.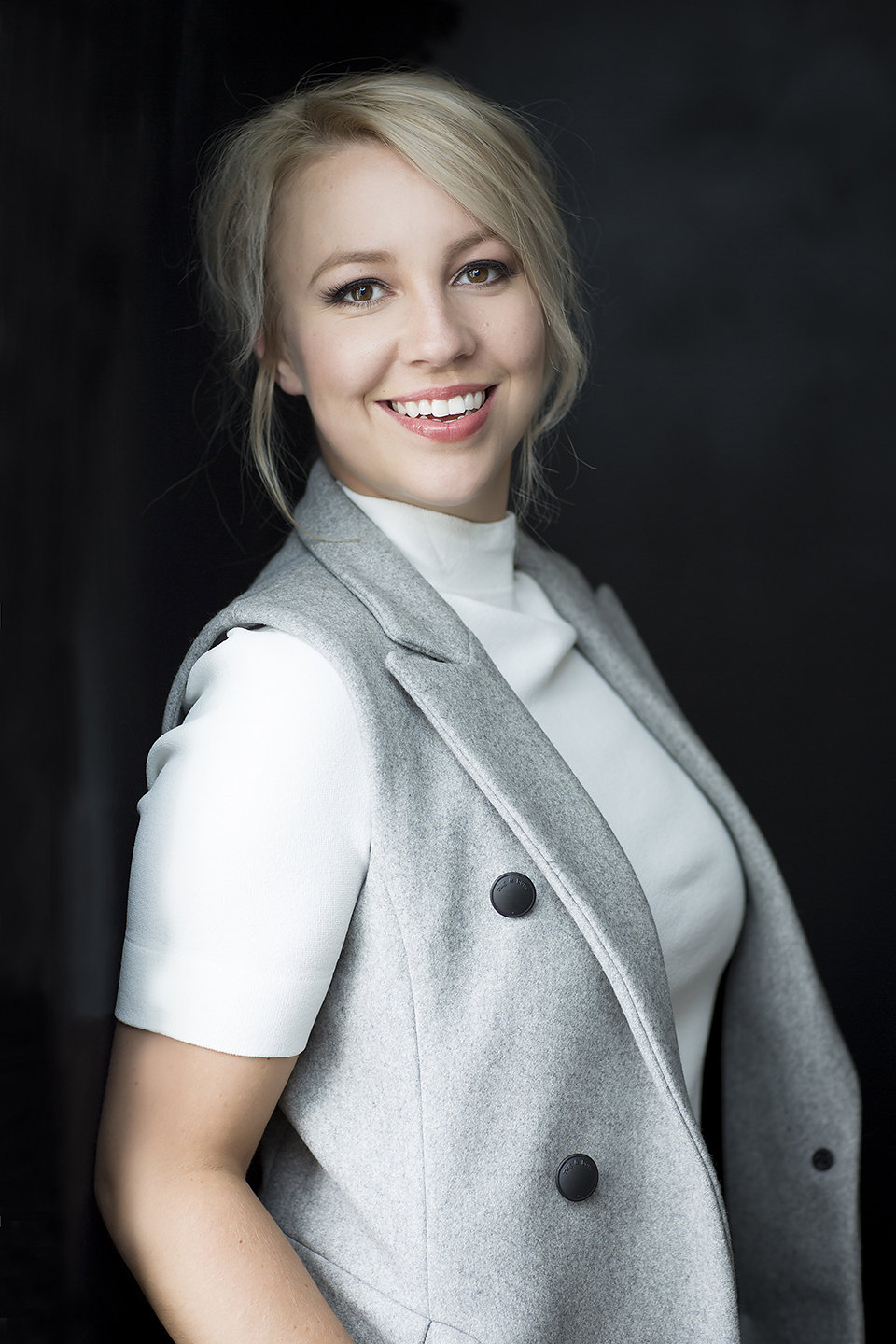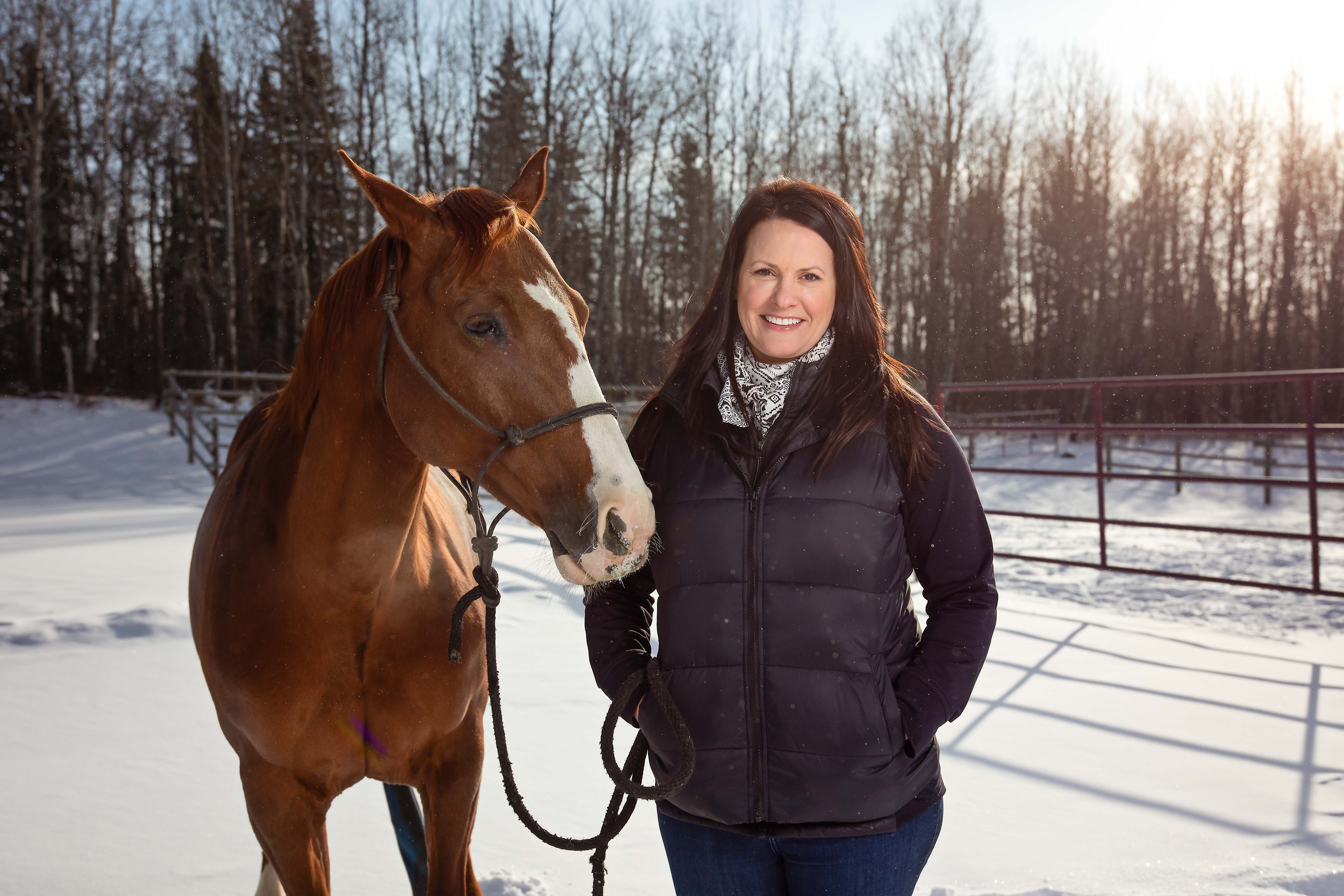 Dr. Sarah Malenchak, Westhills Equine Veterinary Services
Sarah grew up on a beef and grain farm in Manitoba. She has always had a passion for horses which inspired her to pursue a career as an equine Veterinarian. Sarah graduated from Western College of Veterinary Medicine in Saskatchewan. After graduation she relocated to the Stony Plain area and started Westhills Equine Veterinary Services in 2011. Sarah's goal has always been to provide quality equine veterinary care and she has a special interest in equine lameness and reproduction.