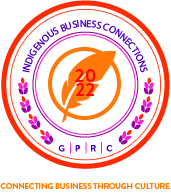 Indigenous Day Celebration
Connecting Business Through Culture
A networking event that focuses on building opportunities and understanding, in celebration of National Indigenous People's Day!
Join us June 17 for a day of educational sessions, cultural demonstrations and music, and a marketplace with Indigenous vendors from across the region.
The day will start with Greetings and Blessings from dignitaries from the regions municipalities and nations and then split off into educational sessions including a Talking Circle, and a Q & A to ask questions and myth bust in a safe space.
The day will also include bannock making  and some beautiful teepee's!
For those who register for the educational sessions there will also be a lunch provided!
Indigenous owned businesses will be exhibiting between 12:00pm - 5:00pm.