Each Year in March, the Stony Plain & District Chamber of Commerce holds its annual General Meeting. At this meeting, the Membership has a chance to review the yearly financial report, elect new Directors for the Board, and swear in the incoming President.   Also, the Chamber presented a review of the Chamber activities and upcoming happenings.
The Stony Plain & District Chamber of Commerce is pleased to report that the following executive and directors were elected at the Annual General Meeting held on March 15, 2018:
President:  Kevin White (Trinus Technologies Inc. )
Vice President:  Debra DeBernardo (LauraBella Custom Cakery)
Secretary:  Tyler Randolf (TB Financial)
Director:  Paula Adamitz (Adamitz Financial Solutions)
Director:  Ian Havin (Tim Horton's)
Director:  Brenda Hehr (RNG Consulting)
Director:  Jason Kennedy (Hawkings Tinney LLP)
Director:  Glenn Martin (Sorrentino's)
Director:  Brayden Pawlechko (Adventure Mountain)
Director:  Kelly Rose (Panda Rose Consulting Studios Inc.)
Director: Paul Savard  (Birdsell Grant LLP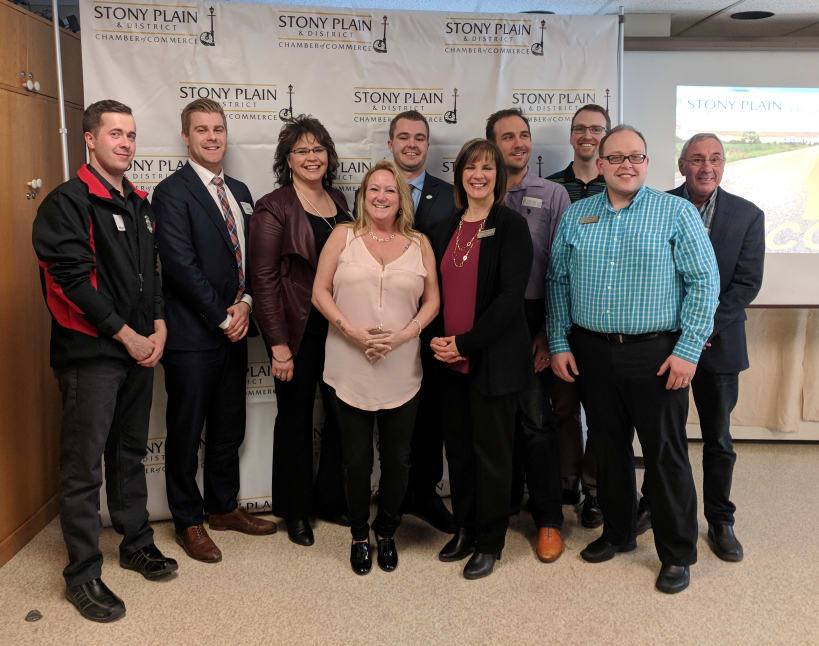 Following the election, Kevin White was sworn in as President by Mayor William Choy.  Members also approved a motion to accept the following as Honorary Members for 2018:
Acheson Business Association
Community Futures Capital Region
Sturgeon River-Parkland/Dane Lloyd MP
Parkland County
Rotary Club of Stony Plain
Stony Plain Constituency/Erin Babcock MLA
Town of Stony Plain
Village of Wabamun
Thank you to the following businesses for sponsorship of the AGM:
North Central Co-op
Gossamer Treasures
Tim Horton's
Joffre's Water
Plains Wine Beer and Spirits
Julia Jackson of Metrix Group LLP presented the Audit Report, after which the financial statements were accepted by the members and Metrix was appointed auditor for 2018.